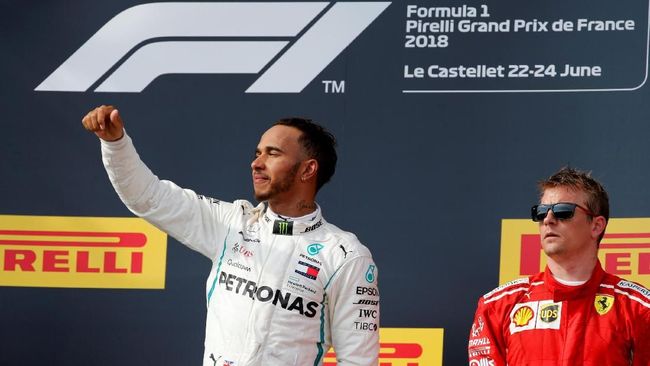 Elitesports.fun – Lewis Hamilton become the winner  on the Grand Prix in German arena after the dramatical win after his closest competitor which is Sebastian Vettel Slipped from the arena because of the rain on that time. With this win, Hamilton for a moment get the highest position on the F1 2018 standings with 25 point, surpass Vettel that win by 8 point from him before.
Beside from getting the point, we could tell this win by Hamilton is the sensational one because he start the race from 14 position.  And for Vettel that we can say race on his own home, starting from the pole position.
In this GP German , Vettel actually have a big change to win the race because we can see that from the beginning of the race he is so dominant and always lead the race, Only his friend from ferari, Kimi Raikkonen, have a change to surpass him from the pole position.
But when the race only left 20 lap, the arena is pouring by rain, And on the 13 bend the accident happen, Vettel hit the wall and make him go out from the race without can do anything about that.
Safety car go inside the arena and after that the race been restarted, In here Hamilton see a chance. he change the tire and takes an advantage from Kimi Raikkonen that are using a ultra soft Tire one.
The pole position get over by Marcedes as soon as the race restarted. He and his fellow patner on the Marceded, Valtteri Botas become the two top on that race. Raikkonen still do his best to suprass them, but until the race over , the position is not change.
At last, hamilton finish first and then follow by Bottas on the second position, Kimi got the third position with over 6.732 second from the champion.
Reading sport news will never as fun as in Elitesports.fun