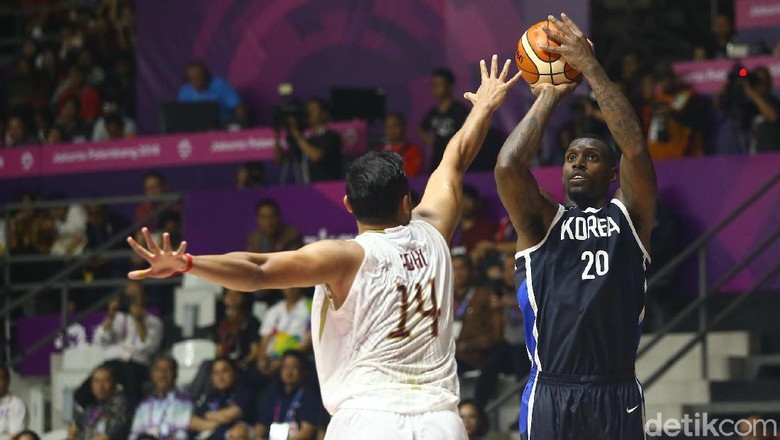 Elitesports.fun – Indonesia basketball team having a nightmare in their first game on Asian Games 2018. Indonesia lose to South Korea with the score 65-104.
Indonesia basketball man team having a match with Korea Selatan on the basketball hall at Gelora Bung karno, Senayan, Tuesday (14/8), On the first match we having on the Group A in the Asian Games 2018.
The hall is crowded by Indonesia supporter that come to watching their man playing. But since the first half Indonesia in look so difficult to find a rhythm and having a bad luck for the scoring. As we know South Korea is the winner of gold medal in Asian Games 2014 that take place in their home, Incheon. Indonesia looks confused in facing the speed of South Korea player. Also South korean play very effectively in finding a way on scoring the goal.
South korea not only wins by their Collectivists But also Indonesia player finding a mismatch because  South korea main center Ricardo Ratliffe look so big inside the game if we compare to any Indonesia player. As we know Ricardo is a Naturalization playing having by South Korea.
Ricardo himself become the player with the highest score, he get 30 point on this game with 19 rebounds and 6 assist. And beside of him, there are 5 player in South Korea that also having a double double in this game which is JungHyun, Kim SunHyung, Heo Ung, Heo Llyoung and Jeon Junbeom.
That looks so contrast if we compare to Indonesia player in where only Andakara Prastawa and Jamarr Johnson having a double double in this game. Andakara score 20 point in this game and 14 point get by Jamarr Johnson.
The main reason Indonesia can lose in this game is because of the rebound statistic. Indonesia only can get 26 rebounds in the whole game, and South korea can get 41. Indonesia player also having a lot of turnover in today game.
So until the last quarter, Indonesia never win against the South Korea in term of point and make the finaled score is 65-104 for South Korea.
Reading sport news will never as fun as in Elitesports.fun